We work with entrepreneurs, small business owners, and nonprofit founders wanting to make better business decisions.
How can we help you?
We pride ourselves with providing you with unparalleled customer service and performance that exceeds expectations.  We are committed to providing you with unbiased advice and prudent strategies to start, run, and grow your business or nonprofit organization.
Our professional services are tailored to your specific needs.  We are here to help you succeed by supporting your management team with innovative solutions driving sustainable growth and change.
We will assist you obtain timely, relevant, and reliable information you need to plan strategically,  manage risks, operate efficiently, and continuously monitor the achievement of your organization's goals.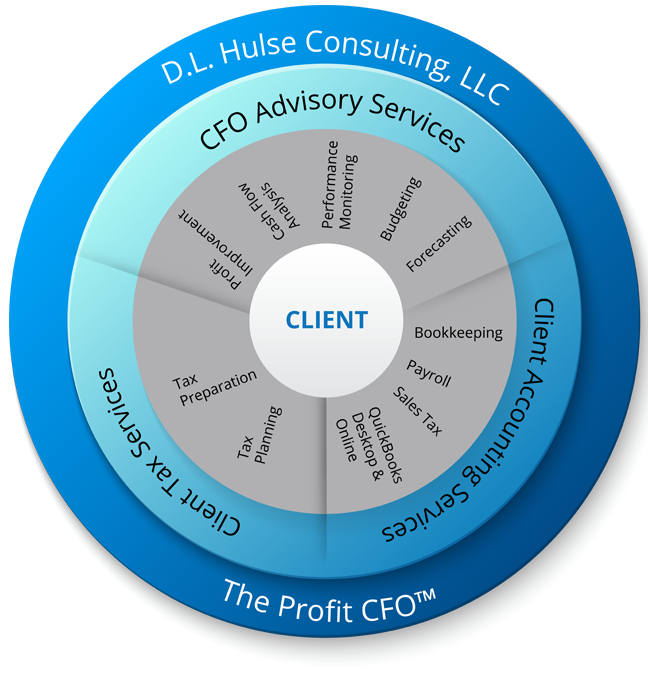 About Us
D.L. Hulse Consulting, LLC (DLHC), is a Chief Financial Officer (CFO) Advisory Services company, based in Gainesville, FL, that specializes in outsourced CFO and Controller advisory services for small and medium-sized businesses around the globe.
In response to our clients' requests, DLHC began offering bookkeeping in 2017 and tax preparation in 2018.
We provide professional services to all entrepreneurs, small business owners, and nonprofit founders who need higher level administrative, finance, accounting, or operational expertise and support on a part-time or project basis. Whether it is a couple hours a week, a day a month, or a special project, contact us to discuss your specific needs.
Call Us Now
(352) 450-2880
Emal Us
info@dlhulseconsulting.com
Mailing Address
P.O. Box 357778
Gainesville, FL 32635-7778